Sail the seven seas with the Barbarossa Pirate Ship.
Please note that this set does not include cannon and cannonballs due to Australian Safety regulations.
The classic, black, painted wooden pirate ship with a skull and crossed swords motif on the fabric sails.
Features include
A crow's nest,
A 'walk-the-plank',
Rigging,
A wind-up anchor,
A deck trap-door,
A helm,
A Barbarossa figurehead,
A rear opening stern for access.
Please note figurines are not included. Expand the possibilities for play with additional figurines that are perfectly scaled for this playset.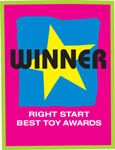 Figures sold separately.
Suitable for ages: 3+ years
Product is constructed from: Le Toy Van is a multi-award winning toy producer who ensures fair trading at every stage of production and ethical conditions for their workforce. Their painted wooden toys are made from various materials including certified sustainable plantation rubberwood and non-toxic paint.
Package Size : 44cm L x 17.5cm H x 16.5cm W
Weight 2.5kg
Product Size : 50cm L x 48cm H x 19cm W